This month see's the first birthday of Zoocha Ltd, and we're celebrating one year of success. There's a lot to be thankful for and as we enter into 2011 – a year we're sure is set to see yet more new clients, new opportunities, and new experiences (even new staff as we'd like to welcome Owen to the Zoocha team!) – we reflect on the experiences of the past year and what 2010 bought to us.
Expansion
A word we all love and key to any business! Zoocha has grown from a twinkle in the eyes of its four founding fathers (well… three founding fathers and one founding mother, to be politically correct!) to a fully functioning and highly successful, innovative business and an exciting place to work. The digital world can change with the blink of an eye, and we're enjoying every step of the ride, moving with trends in the market and even predicting the next major change in the tide, so we can stay ahead of the game and make sure we deliver future-proof websites and leading strategies with each campaign.
New Clients
Zoocha have grown to encompass new employees as well as new and impressive clients in our first year of business. We're thrilled to have worked alongside an impressive portfolio of clients in the past year alone, including huge names such as Argos, Radley and Walkabout Bars (you can check out our full client portfolio on our portfolio page).
New Staff
For all this extra work load, we've taken on a handful of fresh faced new employees, willing and eager to get their creative juices flowing. Our newest web expert, Senior Web Developer Owen Williams, has joined us all the way from Welsh Wales, and we're very excited to have him on board.
New Office
We've also just moved into a fancy new office that can fit all our bright new employees, with ample room for all the creativity we're sure they'll be firing around at one another. We've even got a chill out area – come – games room, complete with mini pool table (courtesy of secret Santa!) It doesn't get much better than this – short of replacing the stair case with a water slide, as per one request which popped up in Zoocha's metaphorical 'suggestion box'.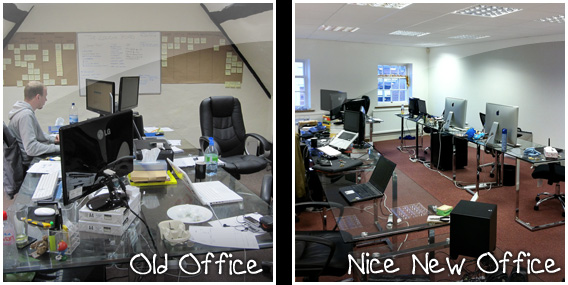 New Website
Not only does our 1st Birthday coincide with the New Year, but seeing as you're reading this blog, you will also have noticed that it coincides with the launch of our dazzling new website! Our blood, sweat and tears have gone into this site (just as with any work we do here at Zoocha) so needless to say, we're rather proud of it – even if we do say so ourselves!
New Year!
One year on from Zoocha's official start date, we're going strong and growing stronger as each and every day brings us exciting new challenges. If we can achieve all this in a year – just think of what we could do with ten! So, enough of the reflection – we're looking onwards and upwards towards what the future has to bring to Zoocha. Watch this space!