Time for a bit of shameless self-promotion! Since the Zoocha website launched a little over 4 months ago, we have attracted a fair bit of attention from the web development & design community. This has come in the shape of being listed under some pretty impressive article headings, along with gaining entry to (and performing well) in some well known web design showcase gallery's. Here are some of Zoocha's notable mentions that we're proud of our inclusion in: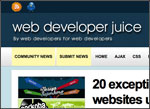 Web developer juice passionately delivers latest news and tricks for designers and web-developers on all subjects of design, ranging from; CSS, Ajax, Jquery, web design, graphics, typography. Their goal is to help you communicate effectively on the web with an engaging website or functional interface.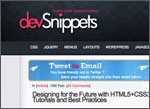 This post looked at "showcasing some of the best blogs and websites in the industry built with HTML5+CSS3″. DevSnippets is designed and maintained by Noura Yehia. DevSnippets serves as public gallery where readers can submit the best code and design snippets, tutorials and latest trends in the design blogosphere.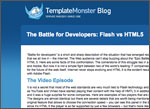 Template Monster is a world leader in e-commerce – providing customers with valuable, convenient, relevant and enjoyable online experiences through a diversity of products and services.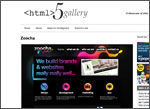 html5 gallery has two primary aims, the first is to showcase sites that use html5 for markup, so that we can see how people have interpreted the specification and how they've implemented it. The secondary aim is to help people learn about html5 and how it should be used and how to implement it.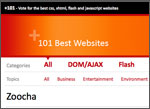 101 Best Websites is a showcase site featuring the best CSS, Flash, xHTML and designed websites across the world. You can vote for the top sites and submit your own and other people's websites to the gallery.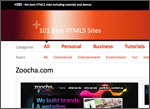 Another of Best served cold's 101 web offerings, focusing solely on sites that use HTML5 as their markup language.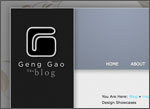 The GG Blog is a blog about everything Design, Software / Apps, or even Gadgets… You will find articles about art and design inspiration, graphic design tutorials and tips, free graphic design resources, freebies, software reviews, freeware open-source software downloads, gadgets news and rumors...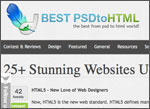 The web is brimming with service providers offering PSD to XHTML services. With each passing day, there is a new PSD to XHTML company that comes up with its set of services, quotes and delivery details. Best PSD to HTML steps in here, to distinguish one service from the other.